Starkey Livio 2400 AI Hearing Aids
Price Each £1895 | Price Pair £3495

Rechargeable version is an additional £100 per aid.

Available in: RIC
Technology rating
For Free Expert Advice
8am to 8pm 7 days a week
Starkey Livio AI - Premium Level Technology
Available in:  RIC 
Lithium-Ion rechargeable model is an additional £100 per aid.  
The Livio AI 2400 is the top-level specification of this range and as the name suggests - includes Artificial Intelligence.  The first multi-purpose 'healthable' hearing aid that, Starkey states is; "what living your best life sounds like".  The Livio is able to record and monitor your body and brain health, with various integrated sensors and high intelligence - it would recognise when you have fallen and act fast with assistance.
Opting for this model will cost you quite a bit more, but what are you getting for your money?  Here are some features:
Hearing Reality
To hear well in all environments can sometimes be a big ask, but with this feature, it constantly provides you with a comfortable hearing experience with enhanced clarity.
Thrive App
This is an app that will give you full control of your hearing aids, at the tip of your fingers.  A convenient addition to your life, enabling with to make adjustments on the go.  So whatever environment you find yourself in, you always gain from the best sound available.
Rechargeable
Currently, the Livio is the smallest RIC that has rechargeable capabilities, giving you an outstanding 24 hours battery life in just one charge.
Connectivity
The wireless technology here is reliable and consistent, streaming directly through to your hearing aids from your smartphone or other modern devices seamlessly.  
Geotagging
A handy tool that remembers when you are in a tagged location, like home, and adjusts accordingly to give you the best hearing wherever you are.
Feedback Cancellation
Livio includes advanced feedback-free accessibility - so your hearing experience is always comfortable and consistent.
Surface Nano-Shield
Livio's innovative casing is equipped with this layer to ensure your hearing aids are protected from water, moisture and wax.  Giving you durability and dependence every day.
Advanced Multiflex Tinnitus Technology
Using the Thrive App, you can control your hearing aids to relieve tinnitus symptoms with ease, for a better quality of sound wherever you are.
The Livio 2400 AI is available in RIC, BTE and 7 colour options.  If you want to find out the differences between the Livio AI 2400 and the Livio 2400, click here.
What it looks like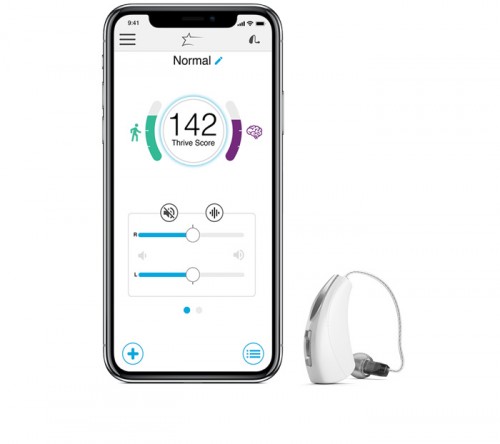 ---
Key Features
Watch the Starkey Livio AI Video Below
---