Phonak Venture V30 Hearing Aids
Price Each £695 | Price Pair £1295

5 Year Warranty Included

Available in: RIC, BTE, ITC, ITE, CIC, MC, SP


Technology rating
High Street Price
£1000
Our price

£695
For Free Expert Advice
8am to 8pm 7 days a week
September 2016 update - The Phonak Audeo Venture V30 has been superseded by the Phonak Belong B30
July 2016 update - The Phonak Venture range has now been fully reviewed. Please scroll down to "Phonak Venture - reviews by audiologists"  for further details.
The Phonak Venture V30 - Entry Level Technology
Available in:  RIC, BTE, ITC, ITE, CIC, MC, SP
Virto means a custom made "in the ear" style aid, ranging from the smallest CIC's to the largest full shell aids. Audeo is the slim tubed RIC (receiver-in-canal) aid and is the most popular choice. The Bolero is the larger behind the ear model and has the option of a slim tube fitting or a traditional full earpiece.
Features
The Phonak Audeo V30 is the entry-level hearing aid in the Audeo V range. It contains a lower level of technology than the V50 and has 8 sound processing channels.
As with others in the range, the V30 benefits from Phonak's Binaural Voice Stream Technology.  This technology means that one hearing aid can pick up speech sounds and transmit them, wirelessly, without time delay, to the other hearing aid. This enables the wearer to hear speech in stereo in difficult situations.
Although it is a lower specification hearing aid, there are many programs and features, giving you an ideal option for less challenging listening environments which won't break your budget.
The V30 is a RIC (Receiver In Canal) hearing aid. These are smaller than Behind the Ear hearing aids, with a discrete case sitting behind the ear and the sound receiver in the ear canal. There is a range of colours to choose from, with bold bright colours through to neutral tones, allowing you to decide whether you want to show it off or blend it in with your hair and skin tone.
The casing is water repellent, so you don't need to worry about the weather, it is also dust repellent, and making sure it stays working at its best.
Some of the programs are automatic so that your hearing aid makes the changes depending on your listening environment. Others can be changed manually, giving you more control over your own hearing.
These programs include:
Speech in Noise
This program helps you to hear a speaker in a noisy room by changing the focus of the directional microphones to the front. Enhancing the speech of the person you are facing whilst reducing the volume of sound behind you.
Calm Situation
This program is designed to enhance one to one conversation at home or in quiet surroundings whilst maintaining your listening comfort.
UltraZoom
The directional microphones are designed to pick up the sound from all around you to give you to best hearing possible. Using the UltraZoom program you can focus the microphones on one specific narrow area, allowing you to 'zoom in' on what a person is saying when there is lots of background noise and distractions, such as a restaurant.
SoundRecover
Many people have high-frequency hearing loss, making it harder to hear certain voices, such as those of women and children. The SoundRecover program makes these voices, as well as other high pitched sounds, easier to hear by reproducing them within your hearing range.
QuickSync
This program ensures that your hearing aids are always working together on the same settings. Changing the volume or program on one hearing aid will cause the other to synchronise to the same setting automatically.
Whistleblock
This program is able to recognise and filter out the whistling sound of feedback before you, or anyone else knows it is there. There is no sound distortion so you can still hear the sounds you want to hear.
NoiseBlock
Constant background noise can cause problems for hearing aid wearers when trying to follow a conversation. Many hearing aids simply amplify everything around you. The NoiseBlock program can pick out this noise and lower its volume, whether it's the office photocopier, your kitchen appliances or traffic noise outside the window.
Tinnitus Balance Noise Generator
Tinnitus or ringing in the ears is a common problem. Although there is currently no cure, studies have shown that sound distraction techniques can help to alleviate the symptoms. The Tinnitus Balance Noise Generator can produce a range of sounds to help the mind to focus on outside sounds instead of the ringing or buzzing inside the ear.
The V30 is fully compatible with Phonak's range of accessories. There is a TV Link which streams sound wirelessly from your television, via the Phonak ComPilot, to your hearing aids allowing you to listen to the television at a volume to suit you, without disturbing others. The mini microphone also works with the ComPilot to stream a speaker's voice to you. This is ideal in more challenging listening environments.
The ComPilot also works as a sound streamer for your mobile phone, MP3 player or other Bluetooth enabled device allowing you to make calls, listen to music and interact on social media.
Superpower version - Naida
The Naida V is the more powerful version of the V30, usually just for those with a severe to profound hearing loss though there is also the smaller RIC version so all hearing losses are covered. Some people choose Naida due to its increased durability. It is made from a reinforced glass fibre 60% more robust than the usual material and the Naida V is also water and dust resistant with an IP68 rating.
What it looks like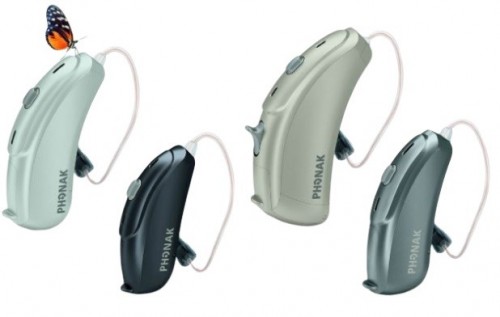 ---