Widex Hearing Aids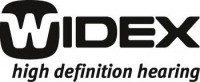 Widex is a privately owned Danish manufacturer who ranks in the top 6 manufacturers globally. Their UK head office and manufacturing plant is situated near Chester and they were the last of the big manufacturers to set up camp in the UK. They now own the majority shareholding of Regional Hearing Services and Arnold Hearing Services, a member of the Bloom network of hearing specialists.
Noted as one of the first manufacturers to offer digital technology, Widex also produced the world's first fully digital in the ear hearing aid in 1995. In 2012, Widex won the European Inventor Award for their innovative CAMISHA technology. (Computer-Aided Manufacturing of Individual Shells for Hearing Aids). This involves using laser technology to make the ear impression which is then turned into a 3D model to ensure each individuals hearing device is a perfect fit.
Widex products are known to be unique in terms of their sound quality with many Widex hearing aid users reporting that the sound was softer and smoother than with other manufacturers hearing instruments. Once clients have experienced the "Widex sound", they tend to prefer it and often continue to purchase Widex products in the future. Technologically, Widex produces excellent hearing instruments although they can be a little slow at bringing them to market. This could be because they are privately owned and not answerable to shareholders. 
For information on all the Widex models which consist of different styles and types including in the ear (ITE), behind the ear (BTE) and receiver in the ear (RITE) see our price list or call us on 0800 567 7721.