Phonak Lyric Hearing Aids
This hearing aid requires insertion by a qualified professional. The price of £1560 is per hearing aid per year as they are purchased on a monthly basis.

Technology rating
For Free Expert Advice
8am to 8pm 7 days a week
Phonak Lyric
Available in:  IIC
Holy Grail or Wholly Failed?
Imagine for just a moment, a hearing aid that was invisible, stayed in your ear 24 hours a day, 7 days a week, requiring no batteries to be changed, was comfortable to wear and sounded great. Well that's the idea behind the Phonak Lyric. If we are to believe the marketing hype then we may think that the ultimate hearing aid has finally arrived – or has it?
There are many comments published on the internet from wearers. It appears to have what I call "Marmite appeal" – you'll either love it or you'll hate it. It is difficult to gauge the true success of this hearing aid as nobody has conducted a real study of its performance etc. This is actually true of all hearing aids and is understandable as the only people with enough resources to fund this would be the manufacturers (and that may render it biased). Phonak did do a limited comparison in 2011 using only 12 hearing aid wearers and this merely concluded that there was "no disadvantage in wearing the Lyric versus other digital hearing aids". Hardly research to blow your hair back. Given that there are clearly mixed opinions out there, I will endeavour to present both sides of the argument as fairly as I can.
So what is the Phonak Lyric?
It is a tiny hearing aid that fits completely in the ear canal and in many cases is invisible. It is worn for 24 hours a day, 7 days a week for about 3 or 4 months. It is inserted by an appropriately trained person and every 3 or 4 months it is removed and another one inserted (by the professional). There is no handling by the wearer of either the aid or batteries as the aid is essentially disposable.
Pros and cons
Invisible. Yes, it is but then again there are many invisible hearing aids on the market that fit deep into the ear so it is not unique by any means.
No batteries to handle. This is certainly an advantage if you have poor dexterity.
No removal or insertion. Yes, this is truly a "lifestyle" instrument. No need to put it in on a morning or take it out at night. Having said that, some people like to remove their hearing aids at night. Whilst it is possible to remove the Lyric using the special tool provided, the aids cannot be reinserted. This must be done by a hearing professional so a trip to see them is required.
Technology. Believe it or not, this is only an analogue product. Digital sound processing is very shapeable whereas analogue is quite limited. Even the most basic hearing aids these days are digital. Digital technology usually requires more current drain on the batteries so that is probably the reason they needed to use rather basic analogue technology. If they had used digital technology the battery wouldn't last as long. I hear through the grapevine that Phonak are looking to introduce a digital Lyric. Given that Phonak's own "research" has "shown" that the Lyrics analogue processing is no worse than other digital aids, it will be interesting to hear how they explain the need for a digital Lyric. Are they going to admit that digital is better?  
Price. This is perhaps the biggest issue. It costs around £130 per month per aid. A hearing aid should last at least 5 years so the cost of a Lyric over this period would come to a staggering £7800. If you need 2 hearing aids as most people do then you're looking at £15,600. To buy the very best invisible digital hearing technology would only cost around £1500 per hearing aid.
Replacements. The Lyric contains a battery that lasts up to 4 months (perhaps only 3 months in many cases). In order for the aid to be replaced you would need to visit the place where you bought it and have a new one reinserted.  The appointment is very quick but for some people, I guess an appointment every 12 weeks or so may be a bit inconvenient.  It is worth considering that if you were away from home, perhaps on business or holiday, and the battery runs out then what do you do? Basically you're stuck. Yes you can remove the aid yourself to unblock your ear but you would need to wait until you could visit your audiologist to get a replacement. With any other hearing aid, you would simply change the batteries.
Waterproof? No it isn't. It is "water resistant". According to the manufacturers it should not be submerged in water. It will probably be ok to take a shower but not to go swimming in. Not good if you enjoy swimming or are considering a dip in the pool whilst on holiday. Very few hearing aids are waterproof but this one really needed to be as it can't be reinserted once removed.
Accessories. It is possible to manually adjust the sound level or switch the Lyric off by way of the SoundLync tool provided. Basically this is a magnet that when held near to the ear can alter the volume etc. This is the only accessory.
Wireless connectivity? In a word, no….. Many hearing aids today have the capability to communicate with the television or telephones etc. but not the Lyric. I guess this is down to the fact that it is not a digital hearing aid.
Candidacy. Not everyone is suitable for Lyric. The fitting range is quite broad so there's a good chance it will fit your hearing loss. The main problem here is the size and shape of the ear canal. I understand that a good proportion of people are unsuitable but you won't know until you try.
Conclusion
The general idea behind Lyric is good and Phonak should be applauded for their valiant effort. The price is ridiculously expensive. Whilst there is a convenience factor in not having to change the batteries there is a greater inconvenience factor by having to visit your audiologist every 12 weeks minimum. If you rely on your hearing aids then you may come unstuck when the battery stops working or the aids need to be removed as they cannot be reinserted. The technology is analogue and the sound processing is very basic.
If you're looking for an invisible hearing aid then there are lots to choose from. A particularly good one is called the Nano and it is made by Phonak themselves. Hopefully, this should satisfy anyone thinking we was biased against Phonak – we are not. There are 3 different levels of technology and they range in price from £995 to £1595. Over a 5 year period (minimum life of the hearing aids) you would save over £6000 per ear compared to the Lyric. The technology is superb and the aids are virtually the same size if not smaller. The aids would be custom made for the individual's ear so would be extremely comfortable to wear. There would be no problem removing the aids to go swimming and no need to visit your audiologist every 12 weeks. I understand that they sometimes offer a free 30 day trial of the Lyric. I wonder just how many of these people go on to subscribe to Lyric and how many choose to get a digital hearing aid. Phonak would no doubt benefit either way so perhaps the real benefit of a Lyric is that it generates interest.  Is it Holy grail of hearing aids? Perhaps not but by the fact that you've read this review suggests that the Lyric has perhaps done its job and done it very well.
What it looks like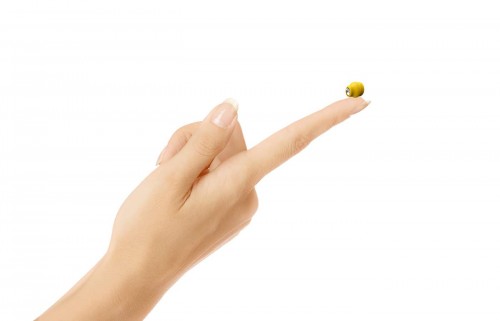 ---