Bernafon Nevara 1 Hearing Aids
Price Each £445 | Price Pair £795

2 year warranty included

Available in: RIC, BTE, ITC, ITE, CIC, MC



Technology rating
For Free Expert Advice
8am to 8pm 7 days a week
Details & Features
Bernafon Nevara 1 Hearing Aids
Available in:  RIC, BTE, ITC, ITE, CIC, MC 
|  2021 Update:  This hearing aid is now discontinued.
The Nevara 1 is an "entry-level" hearing aid which means that it is the most basic one that the manufacturer produces. Normally this would mean that the aid is only going to be effective in quiet environments but with the Nevara 1, this is not the case.
Channels
As with all Bernafon hearing aids, the Nevara 1 is a ChannelFree device which means that it has no channels at all and processes sounds whole without splitting them, for a purer sound. 
Background noise reduction
Entry-level hearing aids normally have minimal or no background noise reduction. The Nevara 1 has ANR Plus (Adaptive Noise Reduction) along with fixed or automatic directionality. This isn't as sophisticated as the ANR in the top models but is significantly more advanced than one would expect in a basic hearing aid.
Connectivity
Unfortunately, the full range of accessories such as the TV or phone streamer is not available for this hearing aid. The only compatible accessory is the remote control. Update in April 2016. This aid has now been upgraded and has full wireless capabilities and is compatible with the TV and phone streamers.
Models
The chart below shows what features are available on the different sizes of aid. As with all hearing aids, some features simply can't be fitted on to the smaller versions. All versions can have up to four memory settings (programs) and the BTE's have good protection from both dust and moisture.
What it looks like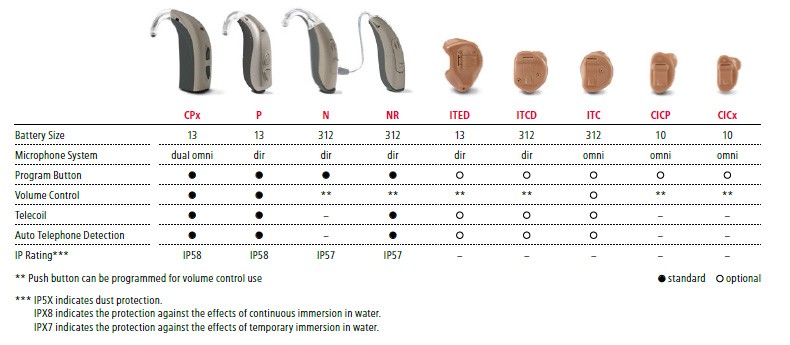 ---
Key Features
View the Bernafon video below
---