British Society of Hearing Aid Audiologists (BSHAA)
---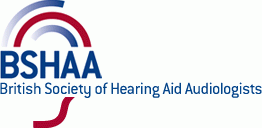 The is the British Society of Hearing Aid Audiologists. This is the professional body that represents and promotes the interests of the independent hearing aid profession.
The purpose of this organisation is to regulate both the professional and commercial standards within the industry. It includes a strict code of practice that outlines what is expected of each member of the BSHAA. Any breach of this code can result in disciplinary action and temporary or permanent exclusion from membership.

The BSHAA is also dedicated to making sure that all members (MSHAA) and Fellows (FSHAA) are continuously developing their professional knowledge and skills in the fast-changing world of hearing aid technology.
The BSHAA has a set of rules for continuing professional development which are compliant with the requirements of the HCPC (Health and Care Professions Council)
---