Unitron North 500 | Stride & Moxi Dura/Fit/Kiss Hearing Aids
Price Each £595 | Price Pair £795

Available in: RIC, BTE, ITC, ITE, CIC, MC, SP

Technology rating
High Street Price
£1000
Our price

£595
For Free Expert Advice
8am to 8pm 7 days a week
Unitron North 500 Hearing Aids
Available in:  RIC, BTE, ITC, ITE, CIC, MC, SP 
|  2020 Update:  Unitron North has now been discontinued.
|  March 2017 update - All models have now been superseded by the newer "Tempus" range.
|  November 2015 update - All in the ear models are now available. These are called the "Stride" models.
Important note regarding hearing aid names
Some companies supply a slightly more basic version of this hearing aid and market it as the "Vista N 510". The hearing aid is still made by Unitron and is almost identical to the North 500.
You will also see other names associated with Unitron products, such as "Moxi, Now, Fit, All, Dura, Kiss, Stride, Insera. These are all essentially different "shapes" of this hearing aid. For example, the Unitron Tempus Pro Moxi sits over the ear, whereas the Unitron Tempus Pro Insera fits entirely into the ear and is hidden down the ear canal. Feel free to ask us for a more detailed explanation.
The Unitron North 500 is the entry-level of technology in the "North" family of hearing aids. It is for people who lead a fairly quiet life with low hearing requirements.
Moxi Fit  The Moxi "Fit" is a shade larger than the Moxi Kiss and that is because it contains both a telecoil and a push button. 
Moxi Kiss  The Moxi "Kiss" is the smallest of the Moxi range, it recently won two different design awards. If you don't need the extra features which bulk up the Moxi Fit and Dura then this is likely to be the best choice.
Moxi Dura  The Moxi "Dura" is the most powerful hearing aid of the three and can help up to severe and profound hearing losses.
Main Features
Basic directionality
The hearing aid focuses your hearing in front of you when speech is present.
Pinna effect
Your Pinna is the outer part of your ear which the aid sits just behind. This should mean you hear more from behind you but Unitron's programming keeps your hearing focused to the front instead.
Antishock
Hearing aid wearers often struggle with sudden loud sounds but Antishock protects you from these by never amplifying them in the first place.
Binaural Phone
Hear the phone in stereo when talking on a landline or mobile using the binaural phone feature. It doesn't matter which ear you put the phone to, the signal goes to both sides.
Water-Resistant
Moisture resistance is to IP57 standards but not actually waterproof.
Other features
The North 500 has other features such as Flex system, Easy-t, Datalogging, Duo-link, Natural sound balance, Wind control, Tinnitus program, Feedback manager. 
What it looks like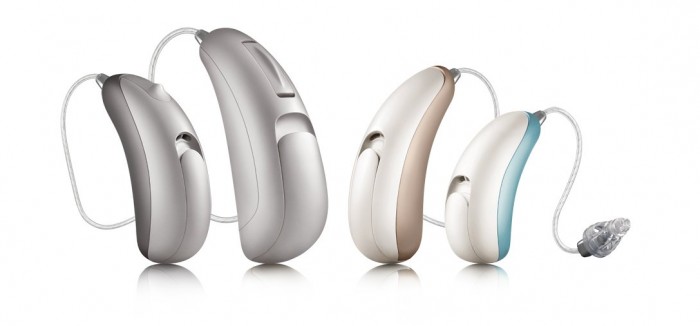 ---
Key Features
View the Unitron video below
---